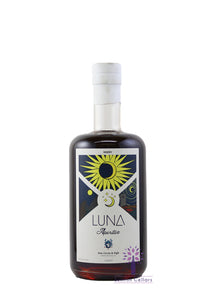 Don Ciccio & Figli 'Luna Amara' Bitter Amaro 750ml
Regular price
Sale price
$57.99
$49.99
Unit price
per
Shipping
We ship to California, Florida, Louisiana, Minnesota, Nebraska, North Dakota, Oregon, Washington DC, Wyoming
Description
Name: Don Ciccio & Figli 'Luna Amara' Bitter Amaro
Country: United States
Region: Washington D.C.
Producer: Don Ciccio & Figli
Size: 750ml
Spirit Type: Bitters

From the Distillery:
"Luna Amara is a bitter aperitivo styled after the "Italian Bitter of Turin" recipe.
A dark cherry colored liqueur, with a multi-faceted bitter-sweetness that highlights grapefruits, prickly pears, gentian lutea and chicory with notes of rhubarb and vanilla.
The higher bitterness level was designed to craft new negroni inspired cocktails, boulevardiers, and more."