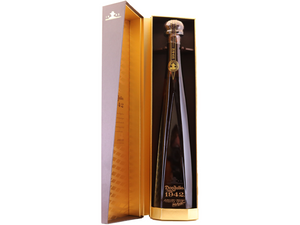 Don Julio 1942 Tequila Anejo 750ml
3 in stock
Regular price
$0.00
$177.99
Unit price
per
Shipping
We ship to California, Florida, Louisiana, Minnesota, Nebraska, North Dakota, Oregon, Washington DC, Wyoming
Description
Name: Don Julio 1942 Tequila Anejo
Country: Mexico
Producer: Don Julio
Size: 750ml
Spirit Style: Anejo 
Spirit Type: Tequila
*Contact us if you would like this item shipped.*
From the Distillery:
"Celebrated in exclusive cocktail bars, restaurants and nightclubs, the iconic Don Julio 1942® Tequila is the choice of connoisseurs around the globe. Produced in small batches and aged for a minimum of two and a half years, Don Julio 1942® Tequila is handcrafted in tribute to the year that Don Julio González began his tequila-making journey.
Aging: 2.5 years.
Nose: Rich caramel and chocolate.
Taste: Warm oak, vanilla and roasted agave.
Finish: Lingering oak and rich vanilla.
Best Served: In a snifter."