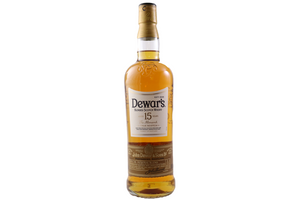 Dewar's 'The Monarch' 15 Year Old Blended Malt Scotch Whisky 750ml
4 in stock
Regular price
Sale price
$57.99
$49.99
Unit price
per
Shipping
We ship to California, Florida, Louisiana, Minnesota, Nebraska, North Dakota, Oregon, Washington DC, Wyoming
Description
Name: Dewar's 'The Monarch' 15 Year Old Blended Malt Scotch Whisky 
Country: Scotland
Producer: Dewar's
Size: 750ml
Year: 15 Year
Spirit Style: Blended Malt
Spirit Type: Scotch
From the Distillery:
"DEWAR'S 15 Blended Scotch Whisky is a blend of very rare vintage single malt and single grain scotch whiskies. The blend is then married in oak casks for a light, velvety finish.
Succulent exotic fruits with hints of coconut and vanilla. The complexity increases with notes of citrus and apple.
Golden honey, toffee, warm and complex.
Delicate and exquisitely scented floral aromas. Smooth and well rounded with a long, warming finish.