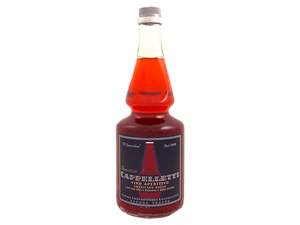 Cappelletti Vino Aperitivo 750ml
1 in stock
Regular price
Sale price
$21.99
$18.99
Unit price
per
Shipping
We ship to California, Florida, Louisiana, Minnesota, Nebraska, North Dakota, Oregon, Washington DC, Wyoming
Description
Name: Cappelletti 'Il Specialino' Vino Aperitivo Americano Rosso
Country: Italy
Region: Trentino-Alto Adige
Producer: Antica Erboristeria Dr. Cappelletti Sas
Size: 750ml
Spirit Type: Liqueur
From the Producer:
"A classy aperitif , il Specialino, an alcoholic bitter with a base of Aromatized Wine, obtained from the infusion of bitter Alpine herbs characterized by an intense aroma and ruby red colour.
It is the perfect addition to cocktails and thanks to its all natural ingredients and harmonious aromas of orange and herbal notes, it provokes a bitter-sweet sensation, and has a lively, persistent taste that stimulates the senses.
It is made from a century old secret formula that skilfully blends white wine, herbs and selected spices which are left to steep in the alcohol. During this time of infusion, it is mixed by hand daily. After natural sedimentation the liquid is filtered, bottled and labeled."