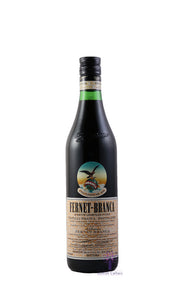 Fernet Branca 750ml
3 in stock
Regular price
Sale price
$37.99
$34.99
Unit price
per
Shipping
We ship to California, Florida, Louisiana, Minnesota, Nebraska, North Dakota, Oregon, Washington DC, Wyoming
Description
Name: Fernet Branca Liqueur 
Country: Italy
Producer: Fernet Branca
Size: 750ml 
Spirit Type: Liqueur
From the Distillery:
"Its secret formula, passed down from father to son in the Branca family, has guaranteed the protection of the quality that still makes it the digestive bitter liqueur par excellence. Indeed, the 27 herbs it contains come from four continents: aloe comes from South Africa, rhubarb from China, gentian from France, galingale from India or Sri Lanka, chamomile from Italy or Argentina, just to name a few.
On top of that there are flowers, herbs, roots and plants used for alcoholic brews, extracts and teas that, blended in a special mixture, produce the beneficial properties of the product."