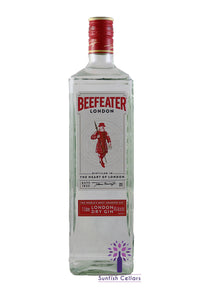 Beefeater London Dry Gin 1L
10 in stock
Regular price
$0.00
$22.99
Unit price
per
Shipping
We ship to California, Florida, Louisiana, Minnesota, Nebraska, North Dakota, Oregon, Washington DC, Wyoming
Description
Name: Beefeater London Dry Gin
Country: England
Producer: Beefeater
Size: 1L
Spirit Type: Gin 
From the Distillery:
"Juniper: The essential botanical in all gins. In Beefeater gin, it is bold and vibrantly crisp.
Lemon Peel: Adding a sharp and crisp citrus profile to Beefeater.
Coriander Seed: Coriander seed releases ginger, sage and lemon flavours.
Almond: Brings a hint of marzipan and soft spice.
Seville Orange Peel: Hand-picked Seville oranges, help to add a bitter citrus flavour.
Orris Root: Aromatic and floral with a hint of Parma Violet.
Liquorice Root: Woody and bittersweet, spicy yet mellow.
Angelica Root: Adds woody, spicy notes and balanced flavours.
Angelica Seed: Fragrant and hop-like with floral notes."