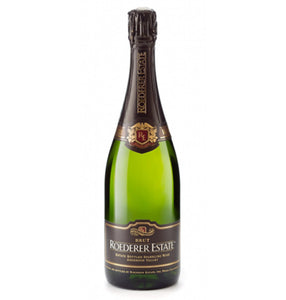 Roederer Estate Brut
26 in stock
Regular price
Sale price
$29.99
$26.99
Unit price
per
Shipping
We ship to California, Florida, Louisiana, Minnesota, Nebraska, North Dakota, Oregon, Washington DC, Wyoming
Description
Name: Roederer Estate Brut
Country: United States
Region: California
Producer: Roederer Estate
Size: 750ml
Vintage: NV
Varietal: Sparkling Blend
Wine Spectator Review: 91 points
"A delicious California sparkler with rich and toasty aromas up front, and a follow-up that features focused and complex lemon, grapefruit, herb, green apple and pear flavors. It's bright and clean on the finish, quite refreshing."
Wine Enthusiast Review: 92 points
"The fruit flavors are apparent, fresh and lively in this medium-bodied, beautifully balanced brut. Light pear and pineapple aromas are followed by richer pear and citrus flavors, and subtle hints of baking spices, almonds and a nice earthy touch emerge."