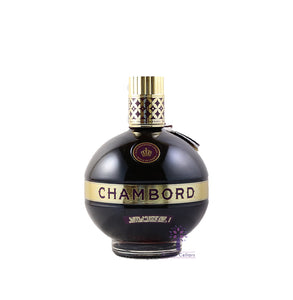 Chambord Black Raspberry Liqueur 750ml
5 in stock
Regular price
Sale price
$33.99
$28.99
Unit price
per
Shipping
We ship to California, Florida, Louisiana, Minnesota, Nebraska, North Dakota, Oregon, Washington DC, Wyoming
Description
Name: Chambord Liqueur Royale de France Black Raspberry Liqueur
Country: France 
Producer: Chambord
Size: 750ml 
Spirit Type: Liqueur
From the Distillery:
"First, the freshest blackberries and raspberries are chosen. Then the juices are squeezed, soaked in French spirits and left to mingle for four weeks. Tick tock. More French spirits are added. More tick tocking. After two weeks the infusion has infused. Bravo. Next, the fruit is pressed. The natural juices and sugars are captured. And bon. We have a delicious, sweet base as velvety as a velvet cushion.
Now the velvety base is blended with extracts of juicy black raspberry and blackcurrants. Fine French cognac, sweet Madagascan vanilla and fragrant herbs are added and they are all left to mingle. This is where Chambord develops its character. Bonjour Chambord.
And now we introduce the Master Blender. The one who uses a 300-year-old tradition to balance the flavours that make Chambord perfect. Bravo Master Blender."