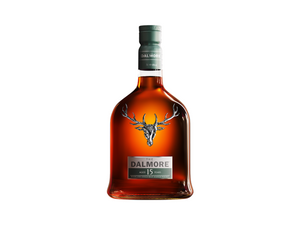 The Dalmore 15 Year Old Single Malt Scotch Whisky
5 in stock
Regular price
Sale price
$139.99
$124.99
Unit price
per
Shipping
We ship to California, Florida, Louisiana, Minnesota, Nebraska, North Dakota, Oregon, Washington DC, Wyoming
Description
Name: The Dalmore 15 Year Old Single Malt Scotch Whisky 
Country: Scotland
Region: Highlands
Producer:  Dalmore
Size: 750ml
Year: 15 Year Old
Spirit Style: Single Malt
Spirit Type: Scotch
From the Distillery:
"The Dalmore 15 year old is smooth, rich and well rounded; the epitome of The Dalmore house style.
This delicate and approachable vintage is initially matured for 12 years in American white oak ex-bourbon casks. The character of The Dalmore 15 is achieved by then splitting the whisky equally between three different sherry woods; Amoroso, Apostoles and Matusalem oloroso for a further three years. The spirit is finally married together in an upstanding sherry butt, allowing the flavours to infuse."