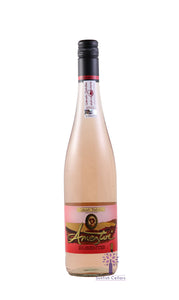 Ameztoi Rubentis Rosado 2022
83 in stock
Regular price
Sale price
$24.99
$21.99
Unit price
per
Shipping
We ship to California, Florida, Louisiana, Minnesota, Nebraska, North Dakota, Oregon, Washington DC, Wyoming
Description
Name: Ameztoi Rubentis Rosado
Country: Spain
Region: Pais Vasco
Sub-Region: Getariako Txakolina
Producer: Txakoli Ameztoi
Size: 750ml
Vintage: 2022
Varietal: Hondarrabi Beltza
From the Winery:
"Tasting Notes:
Visually: Pale pink with shades of fuchsia, its bright tone shows a fine and elegant bubble.
Smelling: Fine and sophisticated fragrance accompanied with notes of citrus and menthol.
To Taste: Harmonious in the mouth, freshness that reminds you the strawberry sour caramel, tasting cheerful because of its bubbles.
Wine and Food Pairing: All kinds of seafood and fish. Excellent with Oysters, Sushi or Tempura fish. Rice, vegetables, pilaf, white meat."