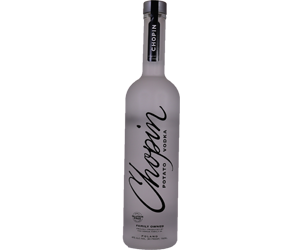 Chopin Potato Vodka 750ml
2 in stock
Regular price
Sale price
$36.99
$33.99
Unit price
per
Shipping
We ship to California, Florida, Louisiana, Minnesota, Nebraska, North Dakota, Oregon, Washington DC, Wyoming
Description
Name: Chopin Potato Vodka
Country: Poland
Producer: Chopin
Size: 750ml
Spirit Style: Potato
Spirit Type: Vodka 
From the Distillery:
"Chopin Potato Vodka is the world's most awarded potato vodka. Its uniquely creamy and full-bodied flavor profile makes it a great standalone vodka, ideal for sipping neat or in a vodka martini. A sophisticated vodka for discerning connoisseurs.
Tasting Notes:
Subtle green apple and vanilla nose
Creamy and earthy taste
Full bodied mouth-feel
Long, clean finish, no burn"