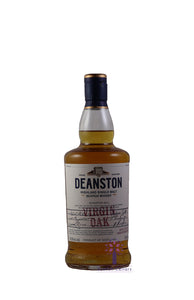 Deanston Virgin Oak Whiskey 750ml
4 in stock
Regular price
Sale price
$40.99
$35.99
Unit price
per
Shipping
We ship to California, Florida, Louisiana, Minnesota, Nebraska, North Dakota, Oregon, Washington DC, Wyoming
Description
Name: Deanston Virgin Oak Single Malt Scotch Whiskey
Country: Scotland
Region: Highlands
Producer: Deanston Distillery
Size: 750ml
Spirit Style: Single Malt 
Spirit Type: Scotch
From the Distillery:
"Nose: Heady virgin oak, bursting with lemon zest and seet barley sugar, with delicious notes of apple and nutmeg.
Palate: A delightful sweetness, evoking memories of candied fruits and vanilla toffee, balanced with heather honey.
Finish: A satisfying light spice, with a rewarding burst of honeyed malt and sweet oakiness."