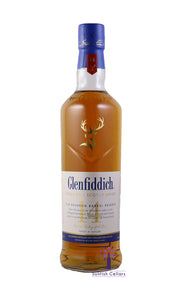 Glenfiddich 14 Year Old Scotch 750ml
3 in stock
Regular price
$54.99
$58.99
Unit price
per
Shipping
We ship to California, Florida, Louisiana, Minnesota, Nebraska, North Dakota, Oregon, Washington DC, Wyoming
Description
Name: Glenfiddich Bourbon Barrel Reserve 14 Year Old Single Malt Scotch Whisky
Country: Scotland
Region: Speyside
Producer: Glenfiddich
Size: 750ml
Year: 14 Year Old
Spirit Style: Single Malt
Spirit Type: Scotch
From the Distillery:
"VANILLA, BROWN SUGAR, FRESH PEAR AND APPLE
ABV 43%, 750ML. US EXCLUSIVE. CERTIFIED KOSHER.
Think a bourbon heart can't hold a single malt soul? Our 14 Year Old Bourbon Barrel Reserve delivers the smooth sophistication of Scotland with the sweet kick of Kentucky. Our Malt Master, Brian Kinsman, waits 14 years as the whisky matures in ex-bourbon American Oak casks. He then finishes the whisky in charred new American Oak barrels supplied by The Kelvin Cooperage in Louisville, Kentucky. The result is a rich, sweet and vibrant single malt that delivers complex flavours of woody spices with ripe summer fruit. It's an expression that will inspire Scotch and bourbon lovers alike to rethink Whisky.
COLOUR: Copper Oak
NOSE: Deep vibrant vanilla notes with hints of citrus, caramalised brown sugar and cinnamon. Baked apple and ripe summer fruits and balanced with the rich oaky aromas.
TASTE:Beautifully rich and sweet with layers of creamy toffee, woody spices, candied orange peel and fresh toasted oak.
FINISH: Long lasting with lingering sweetness."