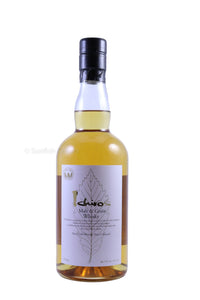 Ichiro's Malt & Grain Blended Whiskey 750ml
5 in stock
Regular price
Sale price
$113.99
$95.99
Unit price
per
Shipping
We ship to California, Florida, Louisiana, Minnesota, Nebraska, North Dakota, Oregon, Washington DC, Wyoming
Description
Name: Ichiro's Malt & Grain Blended Whisky
Country: Japan
Producer: Ichiro's 
Size: 750ml
Spirit Type: Whiskey
From the Importer: 
"In Ichiro's words "An all world whisky" the key malt is Ichiro's Malt, with his selection of Scotch, Irish, Canadian and American Whiskey aged in country 3-5 years and aged on sight in Chichibu an additional 1-3 years. Ichiro's Malt and Grain is blended to balance a heart of Japanese whisky complimented by the major whiskies  of the world.
Tasting Notes:

Nose: apricot, popcorn toffee, vanilla cream, meyer lemon zest.
Palate: light texture notes of toffee roasted chestnut gingerbread, vanilla and black pepper.
Finish: medium-long with honey and black pepper."