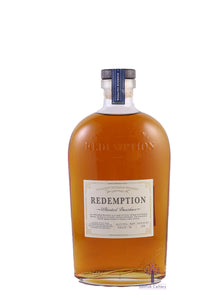 Redemption Wheated Bourbon 750ml
1 in stock
Regular price
Sale price
$59.99
$52.99
Unit price
per
Shipping
We ship to California, Florida, Louisiana, Minnesota, Nebraska, North Dakota, Oregon, Washington DC, Wyoming
Description
Name: Redemption Wheated Bourbon Whiskey
Country: United States
Region: Kentucky
Producer: Redemption Rye Whiskey
Size: 750ml
Spirit Style: Bourbon
Spirit Type: Whiskey
COLOR:
Deep topaz and amber with hues of orange and lime.
AROMA:
Candied ginger, sage, and lavender with fragrant aromas of fresh pear over layers of vanilla and cedar. Extremely complex with subtle notes of bay leaf and burnt toffee.
PALATE:
The palate on this whiskey is silky and harmonious, yet robust and intense. Flavors of roasted coffee beans, smoked meats, and hazelnut marry harmoniously with spicy notes of cardamom and black pepper and a fresh hint of mint.
TECH DATA: 
Mash Bill: 45% Wheat, 51% Corn, 4% Malted Barley
96 Proof
4 Years Old