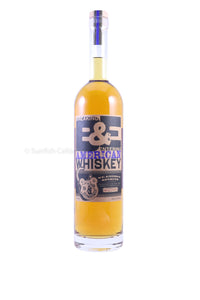 St. George Breaking & Entering Whiskey 750ml
5 in stock
Regular price
Sale price
$44.99
$41.99
Unit price
per
Shipping
We ship to California, Florida, Louisiana, Minnesota, Nebraska, North Dakota, Oregon, Washington DC, Wyoming
Description
Name: St. George Spirits Breaking & Entering Bourbon Whiskey
Country: United States
Region: California
Producer: St. George Spirits
Size: 750ml
Spirit Type: Whiskey
From the Distillery: 
"Introducing Breaking & Entering American Whiskey! B&E American Whiskey is our second release under the Breaking & Entering label. Whereas our gone-but-not-forgotten B&E Bourbon was a bourbon blend, B&E American Whiskey brings together bourbon and rye that head distiller/blender Dave Smith sourced and then blended with some of our own California malt whiskey. The blend brings together four grains—rye, corn, barley, wheat—with no one grain being dominant.
Smith sourced individual casks of rye and bourbon from some of our favorite distilleries in Kentucky and Tennessee and brought them back to our own distillery here in California. He then blended the sourced barrels with some choice barrels from our in-house whiskey program to create a balanced, expressive, all-American whiskey.
On the nose, you'll find toffee, candied orange peel, cinnamon, and cherry bark. On the palate, rich pecan pastry, bittersweet chocolate, fruit preserves, and spice. Enjoy in classic cocktails, such as in an Old Fashioned, Manhattan, Whiskey Sour, or Sazerac."