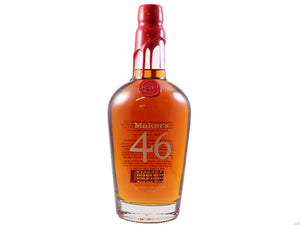 Maker's Mark 46 Bourbon Whisky 750ml
6 in stock
Regular price
Sale price
$54.99
$46.99
Unit price
per
Shipping
We ship to California, Florida, Louisiana, Minnesota, Nebraska, North Dakota, Oregon, Washington DC, Wyoming
Description
Name: Maker's Mark 46 Kentucky Straight Bourbon Whisky
Country: United States
Region: Kentucky
Producer: Maker's Mark
Size: 750ml
Spirit Type: Bourbon
From the Distillery:
"The first bourbon in our wood-finishing series, Maker's Mark 46™ was created by Bill Samuels, Jr., to amplify the flavors he loves in Maker's Mark®. The innovative wood-stave-finishing process starts with fully matured Maker's Mark® at cask strength. We then insert 10 seared virgin French oak staves into the barrel and finish it for nine weeks in our limestone cellar. The result is Maker's Mark 46: bolder and more complex, but without the bitterness typical of longer-aged whiskies.
Aroma: Hints of wood staves, caramel and sweetness.
Finish: Smooth and subtle.
Taste: Very intense flavors; a big crescendo of wood blending perfectly with deep, complex and rich notes of vanilla caramel."