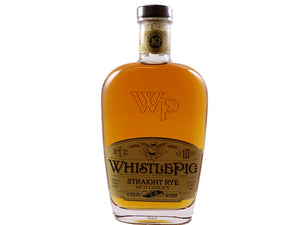 WhistlePig Farm 10 Year Old Rye Whiskey 750ml
3 in stock
Regular price
Sale price
$89.99
$75.99
Unit price
per
Shipping
We ship to California, Florida, Louisiana, Minnesota, Nebraska, North Dakota, Oregon, Washington DC, Wyoming
Description
Name: WhistlePig Farm 10 Year Old Straight Rye Whiskey
Country: Untied States
Region: Vermont
Producer: WhistlePig Farm
Size: 750ml
Year: 10 Year Old
Spirit Style: Rye
Spirit Type:Whiskey
From the Distillery:
"The spirit of entrepreneurship. Fortune, superb taste, and hustle lead us to the discovery of an aged Rye Whiskey stock in Alberta, Canada. We rescued the stock from misuse as a blending whiskey, aged it in new American Oak with a bourbon barrel finish, then hand-bottled this rye on its own. We're honored to present the most awarded Rye Whiskey in the world.
Nose: Allspice, orange peel, anise, oak, char and caramel.
Palate: Sweet; hints of caramel and vanilla, followed by rye­spice and mint
Finish: Long finish; warm butterscotch and caramel."