• Gift • Giving • Holiday • Keepin It Real
Every year around this time the blogs start filling up with 'Gift Giving Guides' and 'How to Throw a Wine Party' posts. After reading four or five of them I was ready to throw my laptop out the window - the amount of useless and asinine info in many of them is mind numbing and it makes me realize why people shopping around this time of year all look shell-shocked… they've been beaten silly by stupid 'what and what not to do' lists. For the love of all that is good and right in the world let's stop making things...
---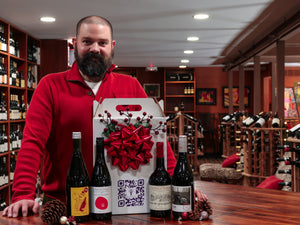 The holidays are an awfully busy times for all of us and, let's be honest, usually far too expensive as well. With both of those two things in mind we try to start each interaction with guests here at Sunfish by defining the parameters of what is going to happen: i.e. I ask them how much they wanna spend. Here is a collection of some of my holiday favorites for every price point plus some easy solutions to common holiday problems. Be sure to use code WINTER17 during checkout for FREE SHIPPING. How do you pick the perfect holiday wine? Pairing wine...